It's not that business news should be boring or just focus on the bottom line. But recently ,The HuffingtonPost ran a story about the state of plastic surgery in the U.S. A very legitimate story. It's just that the headline and photo they used to promote the story was more cheesecake than bottom line.
 Which begs the question - Did they just hire a bunch of online folks from Playboy to work as editors for the business section.?
 From the Huffington Post::
Plastic Surgery Business Sags Amid Recession, Celebrity Regrets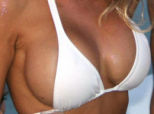 This is the  accompanying photo for the story. Now last I checked, humongous breast implants  a la Pamela Anderson are not the only kind of plastic surgery.
I would guess that ordering up a super-sized pair of cupcakes is not the #1 plastic surgery request.They are competing with requests for  regular sized breast implants, nose jobs, face lifts, scar removal ,Botox, breast reduction, hair implants, eyebrow lifts, tummy tucks and laser vein treatment -- just to name a few.
The business editors  could have opted for a face bandaged  after a face-lift or the tell tale bandage after a nose job. Instead....
Even if the business editors wanted to use a photo of a woman where they could be no doubt that she was not naturally endowed but had acquired an augmented pair of bolt-ons, couldn't they have picked a woman wearing a sweater? Don't you think we would have gotten the point?
Was their really a need to use a photo of  Double F breast implants spilling out of a B cup bikini top?
The misogynistic photo and it's accompanying headline are so sophomoric that  they make my eyeballs hurt.
Bazooka breasts sag and so does the economy. Get it? They both Sag! Hehehe. Yes we get it.
Not even sure that's the kind of headline Playboy would use. It's actually  the kind of  headline and photo some 14- year old testosterone-crazed boy would have on his My Space page.
Oh about that news regarding The Plastic Surgery Industry
  Evidently 62% of the physicians responding to An  American Society of Plastic Surgeons survey  said they had performed less surgeries in the first part of this year.
Even more startling- many of these physicians said they had openings on their calendars.
Even more shocking -- The doctors are now willing to negotiate their fees.
But who needs to focus on that when we can focus on a pair of sagging boobs.