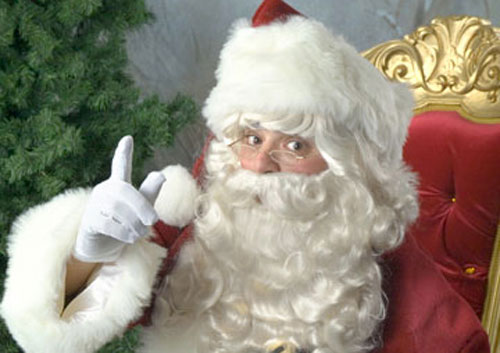 Australian Santas have just attended some professional training and the big take away. HO HO HO is no longer acceptable language for Santa because it could offend women.
From AdelaideNow
A Santa veteran of 11 years who attended the course told the Sunday Mail the trainer was very clear in spelling out no to "ho".

Two Santa hopefuls reportedly left the course after the trainer's edict. The term "ho" is also American slang for a prostitute. "We were told it (ho) was a derogatory term for females and can upset people," said the Santa, who did not want to be identified publicly.

"As far as I'm concerned, a hoe is something you dig the ground with. "I don't think you'll hear too many Santas saying `ha, ha, ha'."

Critics have branded the instruction for Santas to use "Ha! ha! ha! Merry Christmas" as nonsense and madness. University of South Australia communications senior lecturer Dr Jackie Cook said any banning of "ho, ho, ho" was "nonsense". "Can we use a garden hoe anymore? Do we have to remove that?" she said.
If you dig a little deeper, precedence has been set. There was a a time when people regularly described having fun as a "gay old time." Not so much these days.
But here's an idea. Instead of making Santa change his chant which is just so Santa,how about treating "Ho," as in Don Imus Ho ,as an unacceptable term. The problem isn't Santa saying Ho Ho Ho. The problem is that our culture allows women to be called "Hos" and there isn't much of an outcry to say, "That is not acceptable."
You're not going to hear Don Imus saying that term on air again even though it was the description he used in front of HO that sealed his fate. Would he have lost his job (temporarily) if he had said Big Butted Hos? Would the advertisers and NBC Universal had outrageous indignation at calling women Big Butted Hos. I doubt it.
We've successfully deleted many defamatory terms from our everyday language and we should do it with Ho. If it is not acceptable to call a person of African descent the "N" word, and the"P" word for folks of Polish Descent is no longer spoken, nor the "S" word for people of Hispanic descent or the "K" word for Jewish people, then certainly we are capable of self -banning HO as a description for women.
But you have to be offended first. So far, the jury is out on that one. This week a Republican woman called Hillary Clinton a bitch and the audience laughed. Until we squirm when a United States Senator and a front runner in the polls to become the democratic candidate for President is called a Bitch, it will be a while before we, as a society, get around to stop calling women Hos.